(주)유니오텍의 빔컨트롤러 제품입니다.
Product

Beam Expander-/1064/532/405/355/266nm


Fixed magnifications
Adjustable divergence
Galilei Design
Application
Download
Beam Expander-1064/532/405/355/266nm......
BEX series of beam expander has been improved with adjustable mounting with connecting
thread of M16x0.75, M22x0.75 or M30x1
This type of mounting has advantage as the internal lenses will only move along the optical
axis without rotation. Adjustable ring with scales make it more convenient for user's operation.
BEX series 1064nm, 532nm, 355nm, 266nm
Mounting Version for Beam Expander
In correspond with our constant innovation and drive for excellent. We recently release our
new beam expander mounting. Our adjustable mount has been widely accepted model that
able to compensate various degree of input beam. Now with the new mount, the operation of
adjusting the first lens is more convenient. The user only needs to turn the center part of the
beam expander and the first lens will move accordingly along the optical axis with no rotation.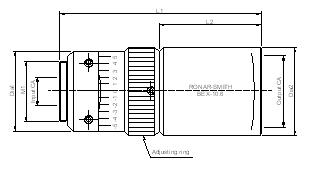 BEX Series Beam Expander
| Part No. | Magnification | Input CA (mm) | Output CA (mm) | Thread | Max Outer Dia(mm) | Length (mm) | Wavelength (nm) |
| --- | --- | --- | --- | --- | --- | --- | --- |
| BEX-1064-1.2X | 1.2x | 16.0 | 23.0 | M22x0.75 | 29.0 | 54.9 | 1064 |
| BEX-1064-1.5X | 1.5x | 15.5 | 23.0 | M22x0.75 | 25.0 | 44.5 | 1064 |
| BEX-1064-2X | 2x | 10.0 | 20.0 | M22x0.75 | 26.0 | 42.0 | 1064 |
| BEX-1064-2.5X | 2.5x | 10.0 | 23.0 | M22x0.75 | 29.0 | 79.8 | 1064 |
| BEX-1064-3X | 3x | 10.0 | 23.0 | M22x0.75 | 29.0 | 58.0 | 1064 |
| BEX-1064-4X | 4x | 10.0 | 22.0 | M22x0.75 | 29.0 | 81.1 | 1064 |
| BEX-1064-5X | 5x | 10.0 | 23.0 | M22x0.75 | 29.0 | 72.0 | 1064 |
| BEX-1064-6X | 6x | 5.0 | 22.0 | M22x0.75 | 29.0 | 71.2 | 1064 |
| BEX-1064-7X | 7x | 6.0 | 23.0 | M22x0.75 | 29.0 | 76.4 | 1064 |
| BEX-1064-8X | 8x | 10.0 | 22.0 | M22x0.75 | 29.0 | 76.0 | 1064 |
| BEX-1064-10X | 10x | 8.0 | 22.0 | M22x0.75 | 29.0 | 69.7 | 1064 |
| BEX-1064-15X | 15x | 7.5 | 28.0 | M30x1 | 45.0 | 99.1 | 1064 |
| BEX-1064-20X | 20x | 8.0 | 28.0 | M22x0.75 | 45.0 | 91.2 | 1064 |
| BEX-633-3X | 3x | 10.0 | 23.0 | M22x0.75 | 33.0 | 63.7 | 633 |
| BEX-633-5X | 5x | 8.0 | 23.0 | M22x0.75 | 33.0 | 110. | 633 |
| BEX-633-8X | 8x | 11.0 | 23.5 | M28x0.55 | 35.0 | 117. | 633 |
| BEX-633-10X | 10x | 8.0 | 23.0 | M22x0.75 | 30.0 | 146. | 633 |
| BEX-633-20X | 20x | 8.0 | 76.0 | M22x0.75 | 30.0 | 198. | 633 |
| BEX-633-40X | 40x | 8.0 | 100.0 | M22x0.75 | 40.0 | 246. | 633 |
| BEX-633-50X | 50x | 10.0 | 81.0 | M22x0.75 | 30.0 | 304. | 633 |
| BEX-532-2X | 2x | 6.0 | 23.0 | M22x0.75 | 30.0 | 83.0 | 532 |
| BEX-532-3X | 3x | 6.0 | 23.0 | M22x0.75 | 30.0 | 83.0 | 532 |
| BEX-532-4X | 4x | 6.0 | 23.0 | M22x0.75 | 30.0 | 83.0 | 532 |
| BEX-532-5X | 5x | 8.0 | 24.0 | M22x0.5 | 30.0 | 81.5 | 532 |
| BEX-532-6X | 6x | 6.0 | 23.0 | M22x0.75 | 30.0 | 83.0 | 532 |
| BEX-532-10X | 10x | 6.0 | 23.0 | M22x0.75 | 30.0 | 83.0 | 532 |
| BEX-532-15X | 15x | 6.0 | 32.0 | M30x1 | 30.0 | 85.0 | 532 |
| BEX-532-20X | 20x | 6.0 | 38.0 | M30x1 | 40.0 | 95.2 | 532 |
| BEX-405-1.5X | 1.5x | 8.0 | 26.0 | M30x1 | 46.0 | 62.3 | 405 |
| BEX-405-2X | 2x | 8.0 | 26.0 | M30x1 | 46.0 | 62.3 | 405 |
| BEX-405-10X | 10x | 9.0 | 28.0 | M30x1 | 46.0 | 85.6 | 405 |
| BEX-355-1.5X | 1.5x | 6.0 | 24.0 | M30x1 | 36.0 | 76.5 | 355 |
| BEX-355-2X | 2x | 6.0 | 24.0 | M30x1 | 36.0 | 75.6 | 355 |
| BEX-355-3X | 3x | 6.0 | 24.0 | M30x1 | 36.0 | 77.3 | 355 |
| BEX-355-4X | 4x | 6.0 | 28.0 | M30x1 | 36.0 | 75.0 | 355 |
| BEX-355-5X | 5x | 6.0 | 28.0 | M30x1 | 36.0 | 73.5 | 355 |
| BEX-355-7X | 7x | 6.0 | 28.0 | M30x1 | 32.0 | 88.1 | 355 |
| BEX-355-8X | 8x | 6.0 | 28.0 | M30x1 | 36.0 | 84.0 | 355 |
| BEX-355-10X | 10x | 6.0 | 28.0 | M30x1 | 45.0 | 80.5 | 355 |
| BEX-355-15X | 15x | 6.0 | 28.0 | M30x1 | 36.0 | 96.0 | 355 |
| BEX-355-20X | 20x | 6.0 | 28.0 | M30x1 | 36.0 | 97.0 | 355 |
| BEX-266-1.5X | 1.5x | 8.0 | 24.0 | M22x0.75 | 30.0 | 63.7 | 266 |
| BEX-266-2X | 2x | 8.0 | 24.0 | M22x0.75 | 30.0 | 73.0 | 266 |
| BEX-266-3X | 3x | 6.0 | 30.0 | M22x0.75 | 30.0 | 68.7 | 266 |
| BEX-266-5X | 5x | 6.0 | 30.0 | M22x0.75 | 30.0 | 69.6 | 266 |
| BEX-266-10X | 10x | 3.0 | 30.0 | M22x0.75 | 27.0 | 95.6 | 266 |
| BEX-266-20X | 20x | 1.5 | 30.0 | M22x0.75 | 30.0 | 96.0 | 266 |